The Miniature Pinscher is a small but very active dog. If the family has children and you decide to have a four-legged friend, take a closer look at this nimble baby.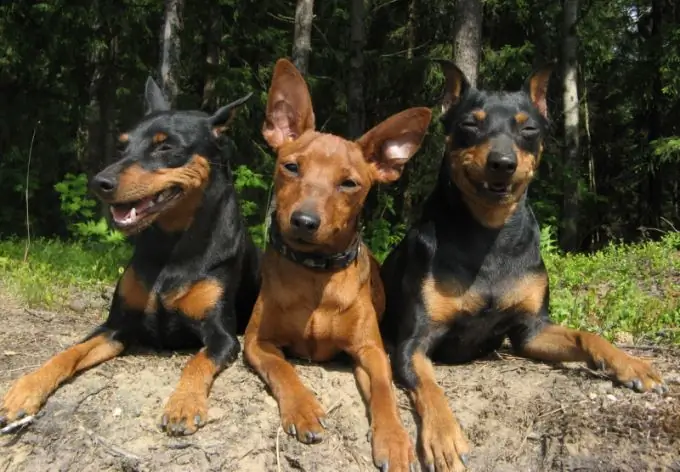 History of the breed
This breed is also called the Miniature Pinscher and was bred in Germany about 300 years ago. And although outwardly he is the spitting image of a reduced Doberman, it would be wrong to think that the Miniature Pinscher descended from this breed. The Miniature Pinscher is an old breed, the first mention of dogs similar to the Miniature Pinscher dates back to the 15th century.
Rather, on the contrary, the Dobermans appeared thanks to the miniature pinschers: it is believed that Mr. Doberman was so crazy about these dogs that he set out to breed a breed with a similar exterior, only large. In the past, miniature pinschers were used for catching rats and mice, as well as for guarding. Now it is mainly a companion dog.
Breed standard
The height of the dwarf pinscher at the withers is 25-30 centimeters, weight is 4-6 kg. Slender muscular body, high legs, small head and graceful neck, smooth and shiny coat. Previously, it was believed that the dwarf pinscher must have its tail and ears docked, but now the ears are docked less and less. According to the breed standard, only 2 colors are recognized: red and black and tan. Previously, brown and tan was also acceptable, but now it is almost never found. The Miniature Pinscher breed of dogs is distinguished by an unusual graceful gait, similar to that of a riding horse.
Nature and content
Despite its small size, according to the classification of the International Cynological Federation, the Miniature Pinscher is classified as a service breed. It is easy to train. Strong muscles and energetic character allow this lively dog to be used in sports disciplines (agility, dog-frisbee, etc.). It will be an excellent companion for those who lead an active lifestyle, like walks in the fresh air.
The Miniature Pinscher is great for keeping in an apartment. This is a family dog that will be patient with children and will become a good playmate for them. She is obedient and quick-witted, quickly learns to use the toilet outside the house. Trusting and playful with the owner's family, but at the same time, wary of strangers. This is a wonderful guard who boldly rushes at anyone who encroaches on the territory he protects. Miniature Pinschers usually get along well with pets of other species. But with dogs they often conflict. They get along well only with those with whom they have known since puppyhood.
Their short hair is easy to care for, but it must be borne in mind that it does not protect well from the cold, so for cold days it is better for this dog to buy special clothes.