The Americans are still a strange people. What kind of contests they do not hold. For example, on June 22, 2013, the State of California hosted a competition for the title of "The Ugliest Dog 2013".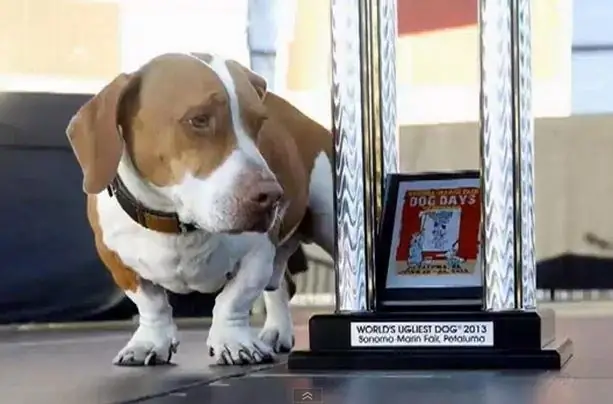 This event is taking place in California for the twenty-fifth time and is popular with dog lovers. Almost from all over the world, they drag their pets to America in order to get the main title and the right to call their dog the most terrible in the world. Recently, the competition has become more frequent when dogs with any deviations in appearance won, mainly representatives of the Chinese shaggy and Chihuahua breeds.
On June 22, the winner was a four-year-old dog named Willie, who turned out to be a cross between a beagle, a basset, and a boxer. On the one hand, it seems that this is the most common mongrel, of which hundreds can be seen on the street, both homeless and with their owners. However, this dog has an odd physique. The head is disproportionately large, the front legs are rather short and it moves like a duck, waddling. The jury of the competition was amazed at his awkward appearance, some said that he reminds them of the creation of an unlucky artist in Photoshop, who decided to experiment with proportions.
At the same time, it should be said that the dog does not care what his appearance is considered to be. The main thing is that the owner loves. And its owner, Tammy Barbie, claims that she does not like a soul in her four-legged friend. And I went to the competition on the advice of friends who have repeatedly spoken out about the dog's ridiculous appearance. As a result, Tammy was the last to register.
As a result, the hostess received one and a half thousand dollars and invitations to shoot on various American TV channels. And Willie will enjoy a year's supply of dog food.