Toy Terrier is a dog that needs special attention. Toy sizes and smooth fur oblige the owner to insulate a pet that is not adapted to cold weather.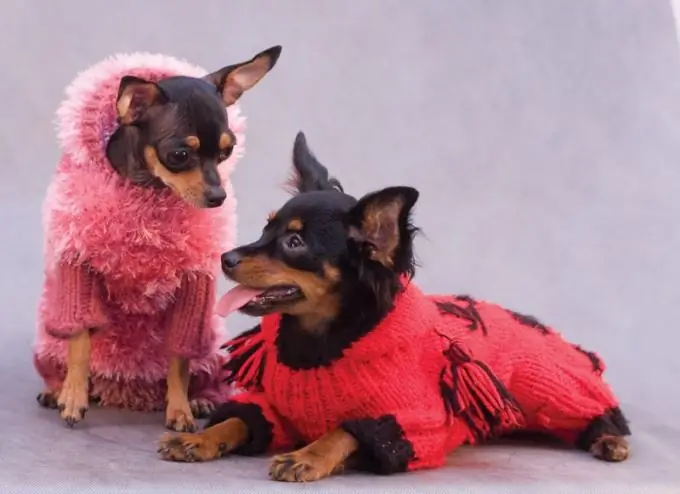 It is necessary
- 50 g of yarn (75% wool, 25% nylon, 205 m);
- 50 g of yarn (100% alpaca, 166 m);
- 50 g of yarn (94% mohair, 6% nylon, 49 m) for tying;
- four knitting needles (4 mm);
- four knitting needles (3 mm);
- hook (6 mm).
Instructions
Step 1
Take your measurements: chest girth, back length (approximate measurements for a toy terrier are 28-30 cm and 24 cm). The sweater is made with an elastic band, so the product will stretch well. Tie the pattern to determine the knitting density: cast on the knitting needles 19 loops, knit 25 rows of thread in two folds (from two skeins, wool and alpaca), the size of the fabric is 10 by 10 cm.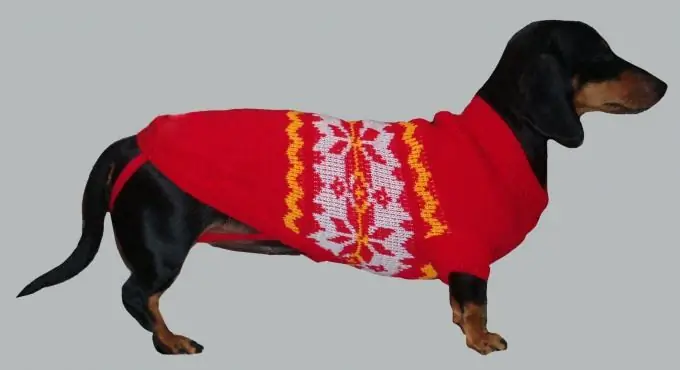 Step 2
Knit a sweater from the neck down, cast on four knitting needles (4 mm) 48 loops, tie with an elastic band 2x2 (two front, two purl) 4, 5 cm. Then start adding loops: add (make a yarn) 1 loop in every second pair purl to make 54 loops. Continue knitting to a height of 6 cm, then add 1 loop each in the remaining pairs of purl (you get 60 loops).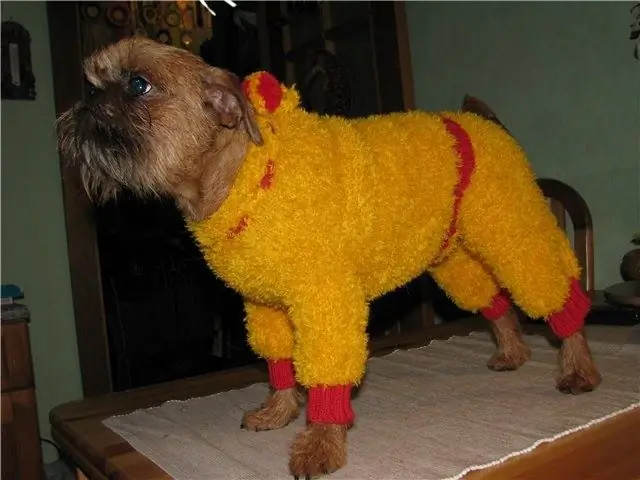 Step 3
Continue to knit up to 8 cm with 2x3 elastic (knit 2, purl 3), then close armholes. There are 60 stitches on the needles at this stage, 15 on each needle. Close the first two loops on one of the needles, transfer the remaining 13 loops to the loop holder (pin), then close the first two loops on the next knitting needle and knit the remaining 43 loops with a 2x3 elastic band (two knit, three purl).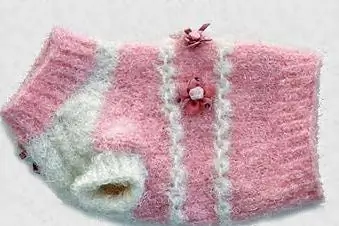 Step 4
Knit back (43 loops) with elastic an additional 5 cm, then move them to the loop holder. Transfer 13 stitches of the front to the working needle and knit 5 cm in the front, then connect the front and back, adding two loops each where they were closed.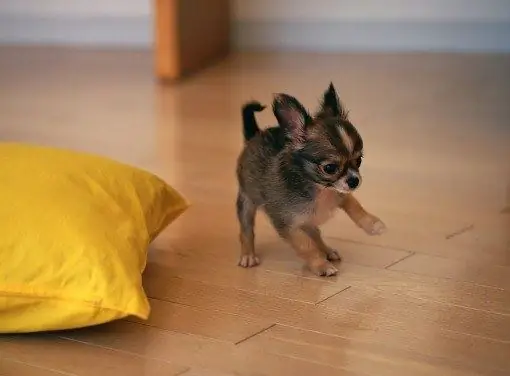 Step 5
Continue knitting until the height of the product is 19 cm, then begin to perform decreases: in every second row: twice (at the beginning of the first and third knitting needles), two loops; two times one loop each, another row - two loops each and the last one - three loops each. Finish the piece at a height of 24 cm.
Step 6
Run the sleeves, typing 36 loops on the needles (3 mm) along the edge of the armhole, tie 3 cm with a 2x2 elastic band, close the front - with the front, purl - with the purl (so as not to tighten the edge), tie the second sleeve.
Step 7
Crochet the bottom of the sleeves and the hem of the sweater (6mm): 1 single crochet, 1 stitch, skip 1cm, then 1 single crochet, etc.