Snakes belong to the suborder of reptiles, are very numerous and exist on all continents with the exception of only Antarctica. It is generally accepted that snakes have weak eyesight and hearing. Despite this fact, at the moment it is one of the most successful types of hunters.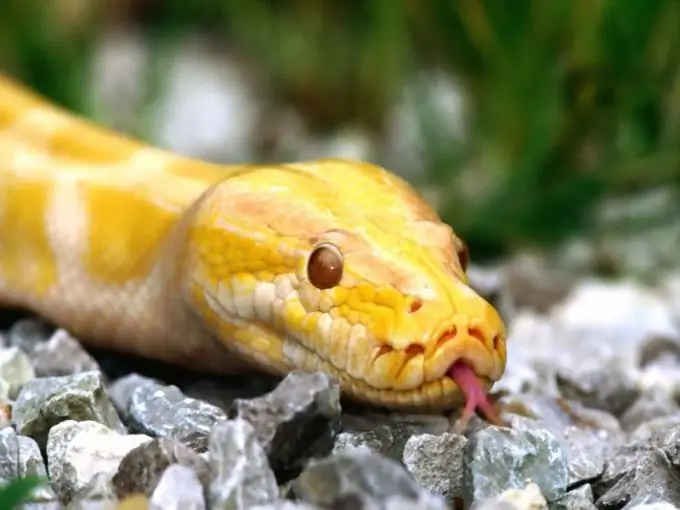 Snake sight
In all fairness, snakes are not as blind as commonly believed. Their vision varies greatly. For example, tree snakes have a fairly sharp vision, and those leading an underground lifestyle are only able to distinguish light from darkness. But for the most part they are really blind. And during the molting period, they can generally miss during the hunt. This is due to the fact that the surface of the snake's eye is covered with a transparent cornea and at the time of molting it also separates, and the eyes become cloudy.
However, the snake's lack of vigilance is compensated for by the organ of thermal sensitivity, which allows them to track the heat emitted by prey. And some reptiles are even able to track the direction of the heat source. This organ was called a thermal locator. In fact, it allows the snake to "see" prey in the infrared spectrum and to hunt successfully even at night.
Snake hearing
With regard to hearing, the assertion that snakes are deaf is true. They lack the outer and middle ear, and only the inner one is almost fully developed.
Instead of an organ of hearing, nature gave snakes a high vibration sensitivity. Since they are in contact with the ground with their whole body, they are very keenly aware of the slightest vibrations. However, snake sounds are still perceived, but in a very low frequency range.
Snake smell
The main sense organ of snakes is their amazingly subtle sense of smell. An interesting nuance: when immersed in water or when buried in the sand, both nostrils close tightly. And what is even more interesting - in the process of smelling, a long tongue, forked at the end, is directly involved.
When the mouth is closed, it protrudes out through the semicircular notch in the upper jaw, and during swallowing it hides in a special muscular vagina. With frequent vibrations of the tongue, the snake captures microscopic particles of odorous substances, as if taking a sample, and sends them into the mouth. There she presses her tongue against two pits in the upper palate - Jacobson's organ, which consists of chemically active cells. It is this organ that provides the snake with chemical information about what is happening around, helping it find prey or notice a predator in time.
It should be noted that in snakes living in water, the tongue works just as effectively under water.
Thus, snakes do not literally use their tongue to define taste. It is used by them as an addition to the organ for smell detection.