Speaking about who lives in evergreen forests, we can safely list amazing creatures from South America. There are evergreen and humid forests on different continents of the planet, but the forests of South America are the brightest and most diverse. It is here that the flora and fauna have enjoyed increased interest and attention from biologists, tourists and the whole world for a long time.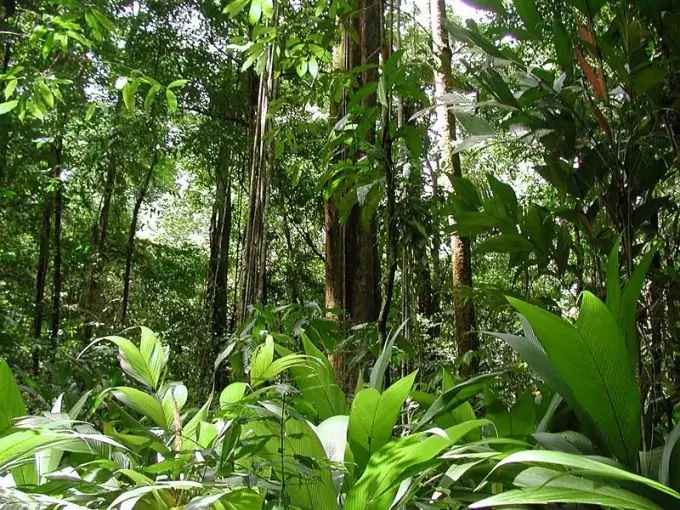 Ah, South America
South America is considered the wettest continent in the world. It has six climatic zones. For example, in the south there are zones of tropical, subtropical, subequatorial and temperate climates, and in the north - the subequatorial zone. The northwest coast and lowlands of the Amazon region have high humidity and an equatorial climate.
Zoologists count here more than 600 species of various mammals and over 900 species of amphibians. In addition, there are over 1,700 different bird species in South America. It is on this continent that a huge number of various parrots live, as well as numerous species of small hummingbirds.
Who lives in the evergreen forests of South America
Quite a lot of bright and rare animals live on this continent: sloths, armadillos, alpacas, vicuñas. The Galapagos Islands are home to the endangered giant tortoise species. Many animals cannot be seen at all on any other continents: this is a wingless Grebe, and a Titicacus whistler, and even a poodu deer. The last animal is generally listed in the Red Book.
The animals that live in the evergreen forests of South America are so unique that they still arouse genuine interest among zoologists. For example, broad-nosed monkeys, represented by two families - marmosets and cebids, are of wide interest for science. In addition, only here you can find a huge number of spider monkeys living exclusively on tree branches.
Such unique animals as sloths generally spend all their time in limbo in trees. It is very rare to see a sloth on the ground. Often the company of sloths is made up of anteaters, who are excellent at climbing trees.
If we talk about cats that live in the evergreen forests of South America, then we can name such species of the feline family as ocelots, jaguars and small jaguarundis. In addition, a little-studied predatory bush dog lives here.
The rodents of the evergreen forests of South America are also unique! Nowhere else can you find such animals as capybara (a large representative of rodents), agouti and koendu. Various marsupial rats and possums live in the humid forests of this wonderful continent. Some species of bats that feed on the blood of warm-blooded animals also live there.